Specifications
Improved Performance
The efficiency of the Supapurlin® profiles delivers significant savings. Performance improvements can be achieved over traditional zed and cee purlin designs, when using SupaZed® and SupaCee® Purlins. The result is increased purlin spacing, increased purlin spans (frame or rafter spacing) and fewer rows of bridging.
(Performance comparisons vary by individual purlin size, span configuration and bridging configuration. We can help with design comparisons for your next project).
Capacity Gain – SupaZed® over Traditional Zed Purlin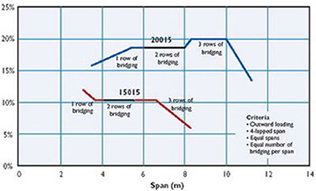 Indicative only, subject to design criteria and assumptions used.
Please Note: When comparing the capacity of LYSAGHT® purlins with other purlin profiles care needs to be exercised. Comparisons can only be successfully completed when a "like-for-like" comparison is made. Differences can result from a number of reasons such as the selection of design parameters for;
Cleat restraints, cladding restraints
Bridging location
Profile dimensions
Lap length